Rooms are available for your conferences or your workshops in the Laurentians
Workshops and conferences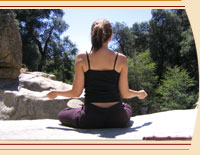 Perhaps you offer a personal growth session , yoga clinic, group or awakening therapy . Or you wish to organize a conference, seminar, convention or focus group, share your expertise or your passion for travel, exchange thoughts on subjects such as spirituality or personal development. Or you're interested in withdrawing to a peaceful setting, or in meditating . Prema Shanti offers what you need, including group accommodation.
Are you thinking of developing a workshop, conference or other activities? Don't hesitate to share your ideas with us, as we are also preparing a calendar of events and are always seeking new concepts.



Conference and workshop rooms set up according to your needs
The Prema Room, contemporary and warm, can accommodate up to 90 people seated individually or 70 people around tables. A stone fireplace provides charm and large windows afford a view of the lake.
The Shanti Room, with an oriental touch, comfortably accommodates 150 people around tables or 200 seated individually. Large windows overlook the lake.